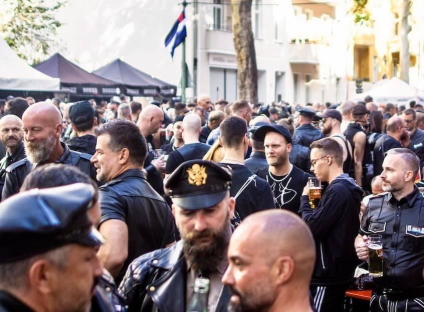 It is early June and we wanna give you an update on the preparations for our FOLSOM EUROPE street fair 2021.
The city of Berlin is opening up – Schöneberg is rising like a Phoenix.
Hotels are allowed to open and welcome guests again. Bars and restaurants have opened their terraces where you can have some food and drinks without any tests needed. Shops opened again – no tests needed for customers either…
Now the restaurants can even open indoors – but first for tested and vaccinated guests only.
In other words: live is back in Berlin and we all cannot wait to celebrate with our friends and enjoy the summer.
We are preparing for the street fair.
We have to be clear: at this time it is unfortunately still too early to expect a permit from the city district for our fair as the legal standards do not allow such big fairs and events YET.
But the first cultural events for up to 500 people are getting permits. The developement of the pandemic in Europe and Noth America is quiet promising. Almost 50% of all adults in the EU got their first vaccination already. Travel bans might be released within the next weeks.
So we are optimistic that we can host the fair – even if it will be in a different way this year. The chances for large parties are still very volatil at the moment – we will wait and see.
Things changed a lot during the last weeks.
Beside of the fair we are preparing for other events such as boat and bus sightseeing tours, walking tours thru Schöneberg as well as the famous Classic meets Fetish concerts.
The shops, galleries, coffee shops and bars will do their best to set up a program as well. All based on the legal possibilities.
But we have to be fair and patient: until the State of Berlin has decided to allow such big events as FOLSOM EUROPE the city district cannot give us any legal permit. We hope that will have changed until July.
Stay tuned, stay patient – and most important: stay safe!