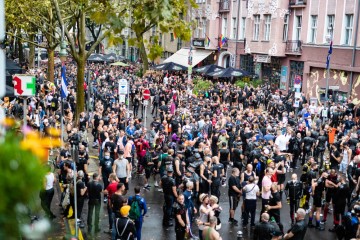 In 2004 the Berlin non-profit organization Folsom Europe e.V. held its first street fair FOLSOM EUROPE on Fuggerstr./Welserstr. in Berlin-Schöneberg with 3,500 queer visitors from Europe and North America. This year we expect 25,000 visitors from all five continents visiting the largest leather and fetish event in Europe.
The street fair will take place on Saturday, September 10th from 12:00 until 22:00.
On Fuggerstr./Welserstr. you will find three stages presented by MISTER B (next to Axel Hotel), RECON (next to WOOF Bar) and BLF BERLIN LEATHER & FETISH (next to the school) with a great mix of international DJs, interesting interviews and exciting promotions. Beside of the stages we will have dozens of leather and fetish vendors, beer and cocktail booths, food trucks and action and information spots.
During the week there will be four OFFICIAL FOLSOM PARTIES: ADAM on Thursday, TESTOSTERONE and REVOLVER on Friday and our own party PIG on Saturday.
Beside of the official parties we offer lots of small and big parties at bars, a bus and a boat sightseeing tour.
The calendar can be found in our pocket guide (printed version or here on the webpage) and in summer we will present an updated version of it on our webpage.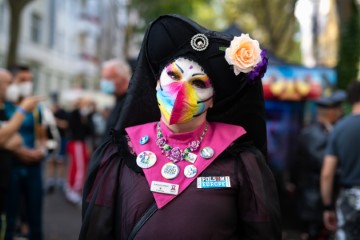 The non-profit organization Folsom Europe e.V. has started a new charity project in 2004 which has been new on our continent. Like our mother-organization Folsom Street in San Francisco we do ask the visitors of our street fair to donate for various projects in Europe year by year at the gates.
From the first year on this work was co-ordinated together with the Berlin Order of the Sisters of Perpetual Indulgence (OSPI). Since 2004 we were able to distribute more than 300,000€ already. All european organizations, projects and groups who are engaged with HIV/AIDS prevention, care and information can apply to qualify for such support from us.
Lately we also started to support smaller leather and fetish clubs or projects that need financial support for special projects in our community.
We would like to thank you all for your support. Your donations allowed us to help those organizations and projects. If you do know any interesting projects that might qualify for our program, please let them know about us and ask them to get in touch with us. Thank you!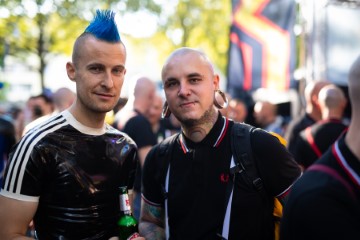 You all might know our FOLSOM EUROPE and EASTER BERLIN from our close partner BLF Berlin Leather and Fetish.
But Berlin has so much more to offer for the kinky folks from all over the world.
Beside of the two main organizations Folsom Europe e.V. and BLF e.V. there is a third major producer in town.
male.space is an event producer that is offering monthly events in town. You might know some of them already, but it is almost impossible to know them all as the list is long: BLACK WEEK, BLACK WEEKEND, The Leather Dinner, BERLIN CIGAR MEN, Fetish Cabaret, BLUF Berlin and the popular TESTOSTERONE party.
All these events make sure that our city is not only the world capital of leather and fetish twice a year – but all year long.
So check the calendar of our partner male.space for your future Berlin travel plans.
TESTOSTERONE, BERLIN CIGAR MEN, The Leather Dinner and BLUF Berlin events will be part of our 2022 program.